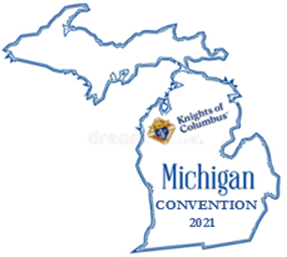 Our Virtual State Convention will open with a celebratory Mass for all lead by our State Chaplain, followed by a message from our Supreme Knight Patrick Kelly and on to our Program and Award Presentation. Mass to begin at 6pm.
Please use this link to watch to Webinar Presentation, you can join us as early as 5:30 pm Friday May 28th using these links:
YouTube https://youtu.be/w7uzUfmz5xc
Facebook https://fb.me/e/1xX2YJxAl
Zoom https://us02web.zoom.us/j/86352999023
Saturday will be a Rosary followed by the State Convention. Non-delegates will be allowed to watch the convention, but not be able to ask questions or vote.
Please use this link to attend the Convention starting as early as 8:30 am on Saturday May 29th using these links:
YouTube https://youtu.be/5_IyoP8HIy4
Facebook https://fb.me/e/YIRcLefH
Zoom https://us02web.zoom.us/j/86479546420
Every year our State Directors and the organizations that we support hand out reports for our membership to review. This year instead of mailing these reports we will be able to send these to you electronically by clicking on the links below. The following reports can be viewed:
1. Resolutions
8. Guest House
2. Take Ten for Charity Report
9. St. Louis Center Annual Report
3. State Raffle Report
10. Protect Life Michigan
4. Life Report
11. Rising Stars Academy
5. MI Program Report
12. 80th Annual KC State Bowling Tourney
6. Special Olympics Report
13. Faith and Family Golf Outing Flyer
7. Holy Cross Services
14. District 706 – Eagle Outing Flyer
LINK – 2021 Director Reports and Flyers
Also included is the 2020 State Convention Transcript for you to review. 
LINK – 2020 State Convention transcript